What Holds Your Client's Organization Together Through Change?
We spend so much time in our stakeholder analysis, training and communications plans, that we often overlook the cultural assessment work because it takes time and doesn't really fit into our implementation timeline.
We're just going to install this change whether it is a new ERP system, a new methodology, or a merger and acquisition, right?
Don't do it. 
Instead, take time for your cultural assessment and in addition, work with your organizational anchors.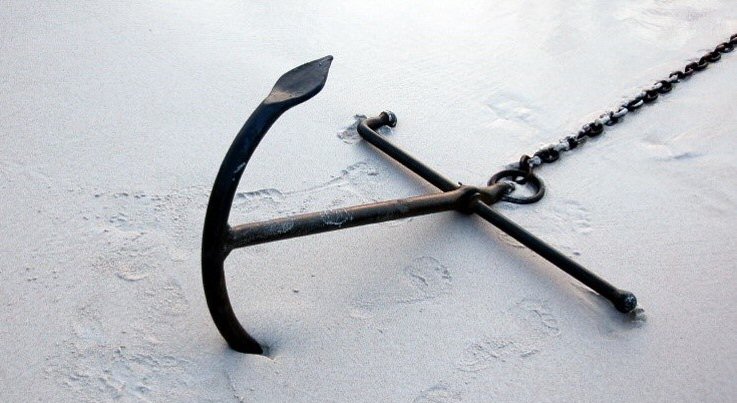 What are the things that people need to hold, see, hear, experience and feel in order to ground them in the reality of the change impacts affecting them?
No matter where the winds take us or where the waves crash, we all need to charter our own direction.
Stability and continuity are important to impacted people. As things change, they need to know everything will turn out fine. Being able to stand on solid ground through the tempest of change keeps them onboard and encouraged to help row the boat.
Again, they need anchors – and there are two types of organizational anchors you can use.
"Traditional Anchors" keep your organization moored in place. These include:
Payroll
Job Titles
Employee Benefits
Cafeteria Offerings
Parking
"My Boss" and "My Team" (for better or worse)
Shift Schedules
"Sea Anchors" keep the ship steady when facing into the turbulence of change:
Customer-Employee Value Chain
"The Customer Is Always Right"
Customer Safety
The Legacy of The Founder (and The Organization)
Rituals and Traditions
In short, anchors provide solid ground and a firm foothold during the storm of change. Always.
These anchors are there, but you may need to seek them out and identify them. That's the good news.
Now the bad news:
Most Change Management Initiatives Pay Little or No Heed to These Anchors
The organization can easily lose momentum, even risk hitting an iceberg and plunging to the ocean floor like the Titanic, due to:
Rapid employee exodus and turnover, which is very expensive
Key leaders in management and the C-Suite become responsive to headhunters and competitor job offers
Employees and leaders who stay onboard are more focused on watching their backs then looking forward; momentum suffers
Longtime customers see the "writing on the wall" and bail before the ship sinks
The organization becomes vulnerable to bankruptcy and buyout by the competition
Often, the knee-jerk reaction is to rush back to the way things used to be. This is a giant step backwards that makes the entire change management initiative an exercise in futility. (That's if it's not too late to save the ship.)
It Gets Worse…
Inertia, paranoia, and reliance on "how we've always done it" will be the order of the day for the foreseeable future, perhaps permanently.
Innovation will evaporate and be replaced by fear and CYA.
Fortunately, There's Still Time to Turn Things Around – Using A Simple, Easy-To-Follow Toolkit That Builds Your Organizational Change Anchors
Joining us to claim your access to, and attend, the Organizational Anchors and Change Toolkit and Workshop, you gain a roadmap that identifies the sources of support, stability, and security that change practitioners can work with during turbulent change to keep your leaders and employers onboard and rowing in the same direction.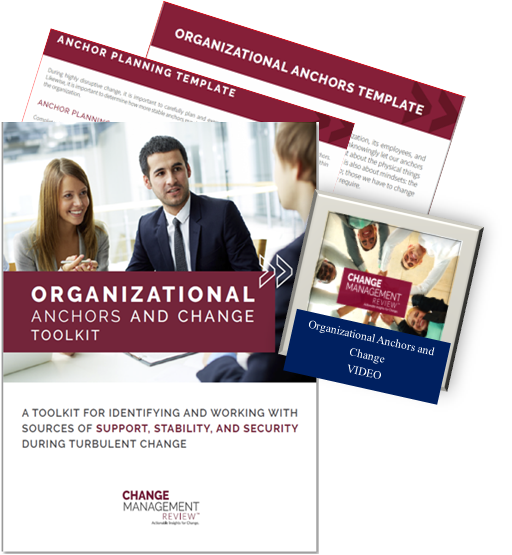 When you claim your access to the workshop and toolkit now, you gain:
1) The Organizational Anchors and Change Video
It provides you with a step-by-step process for inventorying your organization's anchors; for identifying which anchors to work with during a change initiative; and for building out plans for any needed anchor-related changes. In addition, it offers guidance on how to introduce the concept of anchors to other change practitioners, as well as the leaders whose support you will require if you are to be successful in this work.

2) The Identifying Anchors for Organizational Change Guide
This guide describes the different types of anchors that might exist in your organization. It lays out the process for working with your anchors, and provides you with guidelines for doing so.

3) The Organizational Anchors Template
Use this to inventory your anchors. It is also useful to identify those anchors you will be working with during your change.

4) The Anchors Planning Template
This provides you with a framework for planning how to work with each anchor that you call out while completing the Organizational Anchors Template.

5) Helpful, Interactive Excel Worksheet for Organizational Anchors Planning
This enables you to identify your Organizational Anchors in three areas, and make real-time edits as you draw your map as well as changes that naturally arise as you work through the process.

6) Your Ticket To Attend The LIVE Virtual Workshop on Wednesday, May 6th
This workshop will take place on ZOOM. You will receive the link after you claim your access. Here, you will get additional training and support, along with the opportunity to ask questions about your unique situation.
Put together, this Organizational Anchors and Change Toolkit will prove highly useful as you support your organizational change efforts, and support employees in their successful navigation of your changes.
Here's What You Get When You Get Started Today
By claiming your access to the Organizational Anchors and Change Toolkit and Workshop now, you'll enjoy:
24/7 access to the entire Toolkit – a short, detailed video and three PDFs you can download and use for every change management initiative you lead – you can be up and running in less than an hour
Ticket to the LIVE Wednesday, May 6th Workshop – this is your opportunity to gain community support and get answers to the questions that naturally arise as you identify your Organizational Anchors
Money-Back Guarantee – there is no risk to your budget. If, within 90 days, you do not discover the The Organizational Anchors and Change Toolkit and Workshop is the most effective resource to help you identify and leverage organizational anchors, just contact us for a cheerful refund.
The Organizational Anchors and Change Toolkit and Workshop is available for a strictly limited time for just $249. After the live workshop is completed, this will return to its normal price, and you will miss out on the change to get the LIVE training and support that comes with this opportunity.
As soon as you complete your secure payment online, you will set up your username and password for instant access.