A brief history of the change management profession, and a look ahead at emerging trends and drivers of change. 
A Brief Lesson in Change Management History
The mid-20th century ushered in a wave of changes—behavioral, social, and technological.  The need emerged for organizations to understand how they worked and how their employees responded to what was happening within their work world—this need spurred what we know as organization development (OD).
The speed, complexity, and extent of these changes began to accelerate. When organizations failed to meet expected business results from initiatives designed to provide growth, increased productivity, and operational excellence, traditional OD practices were enhanced by practices that helped to facilitate the successful implementation of strategic business change, and the change management profession emerged.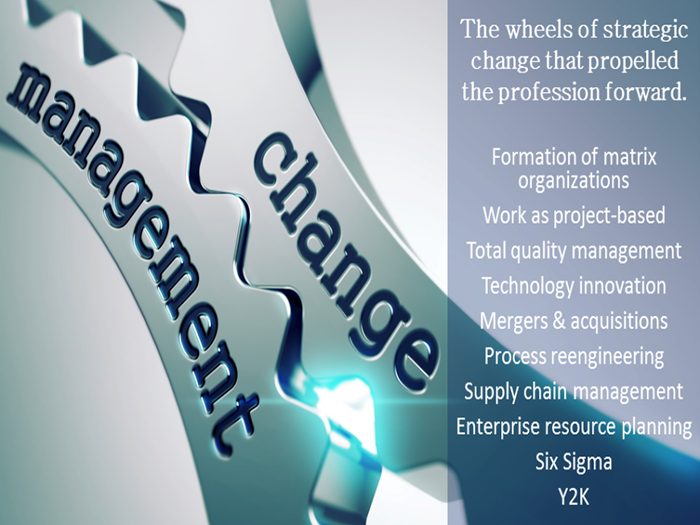 Hallmarks of a Profession in Transition
During the last decade, the change management profession has evolved, much like the project management profession did in the late twentieth century. This period of formalization is characterized by the formation of professional associations (such as ACMP Global, CMI, and others), the development of standards of practice, the expectation of credentialing for practitioners, and a growing competitive landscape.
Growing Competition
As the profession formalizes more and more, individuals and organizations are lining up to become providers of change management products and services and to establish their competitive position in the marketplace.  Providers have not yet completely differentiated themselves, but they fall generally into three categories:
Product companies providing change management tools, methods, and content platforms
Service companies providing consulting, training, and coaching for change leaders, project implementations, and company transformations
Technology companies providing collaborative platforms for project management and custom access to online change management tools
What's Driving the Profession Now?
Now that we've looked at the origins of the change management profession, as well as recognized some signs that things are changing rapidly, we must ask ourselves: What lies on the horizon for us as well as for our clients? We believe that there are many drivers of change, including:
Globalization
Valuing of human capital as an asset that can be measured, managed, and outsourced
Big Data, machine learning, 3D printing, and robotics
Technology used for automation, enterprise-wide integration of work, learning and collaboration, and disruption of current business models
Social media, wearable and mobile technology
Information security for individuals, businesses, and countries
Millennials and the workforce gap
Baby boomers maturing and exiting the workforce, leaving a gap in knowledge and expertise
Virtualization and de-virtualization of employee work environments
Offshoring, near-shoring, and co-location of employees and work
Personalization and customers' relationship to corporate brands
Shift in workplace values and the employer-employee relationship
Recognition of the role a company's workforce plays in the success of its initiatives
What are other factors that are driving the change management profession? Leave a comment below or join the conversation on the Change Management Review Facebook page.