Change is real and inevitable. It is a phenomenon that occurs at different stages of an organization's development ladder. Change helps businesses to evolve in the face of competition, and to constantly advance to meet the changing needs of their stakeholders. Thus, the implication of this realisation is that every forward minded organization and its people ought to view and accept change as a strategic opportunity for growth and transformation.
To be realistic, change, as intriguing as the word may resonate is not always positive, and so creates the challenge for organizations to be flexible and creative in order to adjust and turn around negative change situations to their advantage.
It is important however that organizations imbibe a change mindset and awareness by anticipating change, and getting prepared for it. Organisations need to start having discussions around the need to anticipate any change that may impact its growth and existence. The recent pandemic has also amplified the urgency for organisations to infuse change reactions into their survival DNA in order innovate, drive transformation and actualise the much needed organisational growth.
Have you ever paused to think about how organisations react to change from practical view points? Well, over the past few years, I have critically considered how organisations should react to change and have come to the conclusion that there are 3 change reactions which organisations should adopt as outlined below:
1. Anticipate Change:
The first and probably the most difficult response to change is anticipating it or at least its spin off before it happens. Change is inevitable; it will always happen whether predictable or unpredictable, and leaders in an organization must always have this consciousness in-order to navigate the tide of change when it occurs.
Anticipating change is a crucial starting point in the change reaction process. Infusing continuous improvement into an organization's culture is a good approach to anticipating and preparing for change. Leaders ought to first envision positive change and be prepared for it, otherwise it will seem a mirage.
As earlier mentioned, pre-empting change is never an easy task, among other things, it requires deliberate monitoring of developments in policies, consumer/customer behaviour and technological advancements. Never get lost in change, always be prepared. "True change takes place in the imagination". Thomas Moore.
Anticipating change entails being intentionally aware of related and/or unrelated events that could catalyse change in a business landscape. There have been cases of organisational extinction which occurred as a result of organisations failing to anticipate on-coming change in its business landscape.
It takes positivity, foresight and guts to anticipate change!
2. Embrace change:
Embracing change is never easy, particularly the aspect of getting the buy-in of people that will be affected by change. One of the best ways for leaders and their people to confront change is to embrace it with an open mind for opportunities. Acknowledge change by embracing it when it eventually occurs. Sieve out the negatives and embrace the positives that come with change.
Never make the mistake of getting distracted by the negatives as they can stifle growth. Keep your focus on the positives if you want to extract positive value from change. Change only defeats those that do not have the capacity to embrace it.
In the words of Roy T. Bennett "change may not always bring growth, but there is no growth without change". Confront change and its positives will throw up adaptabilities and transformations.
Organisations should discern how and when to embrace change and turn it into a competitive capability and advantage.
3. Opportunitise Change:
I doubt you will ever find the word "opportunitise"  in any dictionary. Opportunitise in this context connotes making change work to the advantage of an organisation. Change always presents opportunities: opportunity for re-invention, opportunity for growth, opportunity to  re-focus, opportunity for competitive advantage or even opportunity to exit a business.
Whatever it is, organisations need to look out for the opportunities that come with change. There is always an opportunity lurking in the midst of change. Extracting positive value from change whenever it occurs is a skill organisations must never underestimate. The word "extract" has been intentionally used in this context, as looking for the opportunities in change situations has to be a deliberate task, skill or activity.
The recent pandemic brewed a lot of changes, and  in the midst of initial confusion, some organisations were able to extract opportunities from what seemed a negative situation. It was a rare opportunity for some organisations to re-invent themselves.
Organisations must take deliberate steps to seek out positive opportunities that may emanate from change. Leaders and their people must be very enthusiastic about change; it is this enthusiasm that creates the positive energy to opportunitise change.
In conclusion, change must be anticipated, embraced and opportunised. Change reaction plans must be incorporated into organisation's vision from inception in order to establish absorbers for shocks that could be created by change.
No matter what happens, organisations and their people must take action and keep moving forward. Change happens!
New articles that we post to our blog are announced in the Change Management Weekly, our digest of actionable insights for change delivered to your Inbox every Tuesday. To claim your free subscription, click here: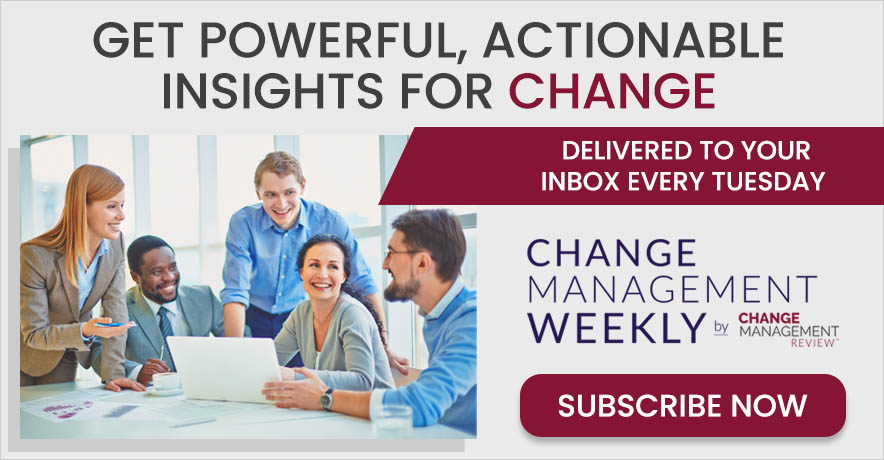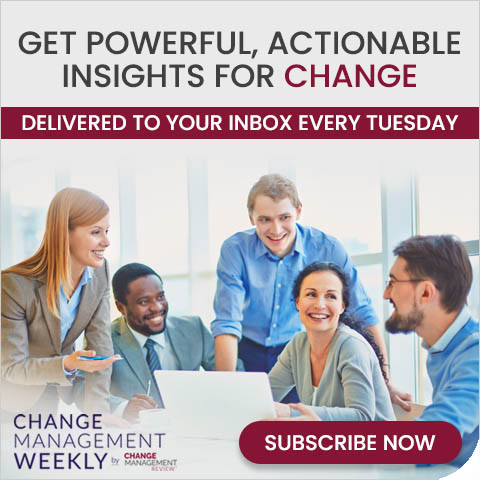 Share With Your Colleagues