Whether it's self-check lines at the supermarket, self-driving cars on the road or the emerging use of cryptocurrency, the world around us is changing rapidly.
For organizations – and their senior leaders – it's essential to roll with the times and adapt or face turbulence and even extinction. It's that simple.
One of the growing trends is the use of robotic process automation (RPA) and artificial intelligence (AI). These technological advances made the headlines last year when former Citibank CEO Vikram Pandit predicted that 30% of banking jobs could be eliminated in five years as financial institutions strive for greater efficiency.
While that is a very bold prediction, our change management firm also envisions projects related to RPA as a growing stream of business in both the near and long-term future – a view supported in a 2017 Deloitte survey. Financial institutions in particular seem eager to blend more technology into their operations to become more efficient and competitive.
Of course, such a shift can have a big impact on people – the strength of any organization. Done poorly, the results can be disastrous, particularly for morale. Planned well, though, the transition can be smooth and even make a company stronger by helping impacted staff learn new skills and gravitate to new roles, resulting in less turnover and increased job satisfaction.
Last year, we assisted a Canadian financial institution with the integration of RPA into their back office operations. Through our change management practices, we helped streamline their operations by transitioning staff to more value-added roles such as customer experience on the frontline.
Here are a few of our observations – and learnings – through this particular change management journey.
Hitting the Suite-spot
One of our key objectives working with any organization is ensuring that we have C-Suite support right at the outset. This was particularly critical for an initiative involving a new technological change such as RPA.
We achieved this by first defining the situation and mandate. In this case, it revolved around a quest for continuous improvement (as opposed to a cost or risk reduction objective). The financial institution wanted to use RPA to replace some repetitive, manual back office duties and reassign staff to roles that could enhance its customer service on the frontline.
With the objective clear, we mapped out a detailed strategy that outlined the distinct planning, design and implementation stages. This included appointing executive sponsors to drive this transformation, creating training material (including toolkits) and closely monitoring each phase to make adjustments along the way.
Our recommendation to use a pilot to help staff adjust to this shift was also approved at the outset. This was very important as some executives are inclined to try to speed up an implementation timeline so they can focus on their ongoing operations.
Putting people first
It's our belief that if you aren't able to win the hearts and minds of people, the odds of success are remote. We were fortunate in this case to have a partner that values their people. They fully supported our plan that included retraining or redeploying any staff impacted by the RPA initiative, ensuring that morale remained high.
Sure, one of the goals of the organization was to become more efficient. However, just as important was the social benefit they earned through improved engagement among staff. This has translated into their objective of providing enhanced customer service for their clients. In other words, a classic win-win.
Savouring success
The entire cycle of this particular initiative lasted about four months – typical of the timeline for an agile change management project that we've led. I'm pleased to report that it was a success with the pilot and initial implementation performing as anticipated and on track to generate reduced costs due to automation while achieving an improved customer experience and internal processes.
As a credit to our efforts – and those of the technology vendor Deloitte – the member-owned financial institution has continued on its RPA journey – the first of its kind in its space.
Practitioners who plan to follow in our path are encouraged to keep people front and center in any similar change management initiative.
New articles that we post to our blog are announced in the Change Management Weekly, our digest of actionable insights for change delivered to your Inbox every Tuesday. To claim your free subscription, click here: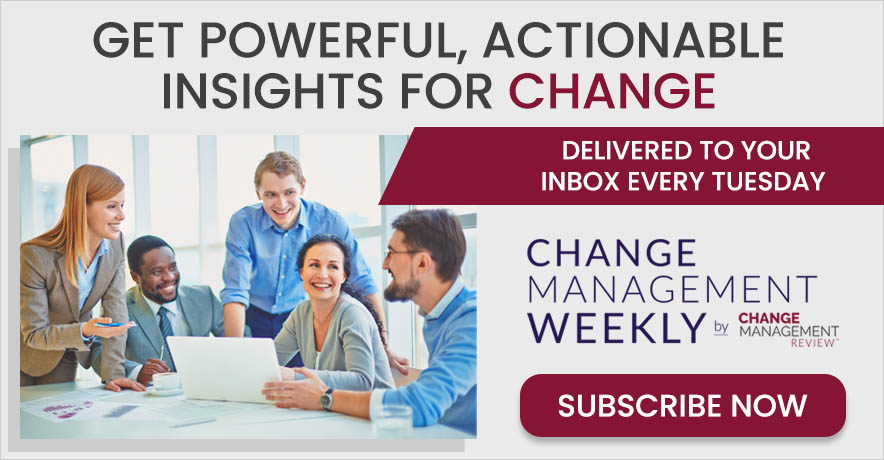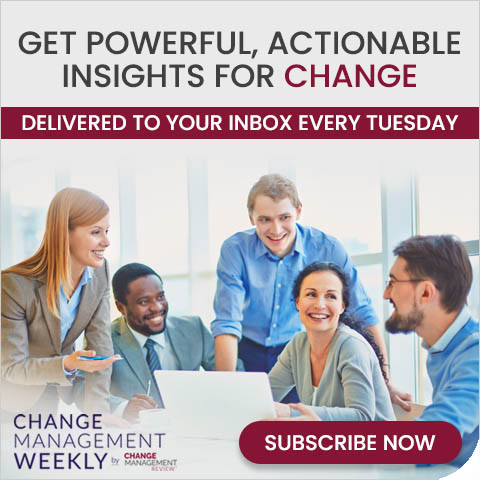 Share With Your Colleagues