The change management profession has been fortunate to be founded and driven by some extremely talented thought leaders over the past 40+ years – Kurt Lewin, Daryl Conner, John Kotter, Rosabeth Moss Kanter, Peter Senge, Dean Anderson, and Linda Ackerman Anderson, just to name a few.
And now, we celebrate some current and new change management professionals who are following the trail blazed by these pioneers and at the same time breaking exciting new ground in the field.
I invite you to take a moment and check out some of the superstars that we have discovered here at Change Management Review™, many of whom we have been honored to feature on our internationally recognized podcast and others you will be seeing very soon.
Look for yourself and discover powerful wisdom, creativity, and perspective that will add to your practice of change management.
Will Scott – Culture Isn't an Afterthought
According to Will, "There needs to be some doing before defining of values to ensure there is a legacy from which to build and develop a culture. Although you could draft core values early in the inception of a business, it's always good to keep them fluid in the early stages."
Edwina Pike – Emerging Trends in Behavioral Change
Edwina's most recent work involves the use of behavioral science to determine why anthropology and child development may be our next source of insights for change.
As a self-described disruptor of organizational behavior change, she is on a mission to change the way we think about change. With a unique blend of behavioral sciences and irreverence, Ed simplifies complex dynamics into practical "brain hacks".
See Edwina Pike's presentation at our upcoming Lead Change 2023 event
Michael Leckie – The Heart of Transformation
In The Heart of Transformation: Build the Human Capabilities That Change Organizations for Good, Michael J. Leckie writes, "Throughout this book I will be talking about individual change as the basis for all change."
Having spent his career thus far helping people to make sense out of the world around them, Michael knows that it is the stories we share that guide us in discovering what we might become and living up to all we can be.
Erika Andersen – The Case for a Different Mindset About Change
What if, instead of seeing change as difficult, costly, and "weird" or outside the ordinary, we were to look at it as easy/doable, rewarding, and normal?
Erika believes that this should be the mindset for all change.
She makes the case that leaders, individuals throughout the organization, and the organization itself must make this mindset shift, and that our role as change practitioners is to guide them through it.
Brendon Baker – Valuable Change
Leonardo Da Vinci said that "Simplicity is the ultimate sophistication."
One of the American Supreme Court Justices, Oliver Wendell Holmes, Sr., is quoted as saying, ""For the simplicity on this side of complexity, I wouldn't give you a fig. But for the simplicity on the other side of complexity, for that I would give you anything I have."
Brendon believes that as a profession, we have over-complicated our approaches to change management. He has taken it upon himself to simplify it and in doing so, to help change leaders drive real value.
David Nour – Curve Benders: A New Perspective on Change Practitioners and Change Leaders
As seasoned change management professionals, it's important to ask questions. With non-linear growth the norm in today's environment of business, agility and innovation are more important than ever.
David believes relationships are a key resource for those who are leading and facilitating change as well as nurturing, feeding, and strengthening those relationships over time.
Nancy Murphy – The Being and Doing of Change Leadership
Many historical leadership traits are no longer serving either leaders or their organizations. Nancy believes change leaders need to act more like Indiana Jones – always seeking knowledge and expecting the unexpected.
She has spent her career saying what others are afraid to – and learning to say it in ways that others will listen. Her passion is teaching leaders how to make organizational change stick.
D. Lynn Kelley, Ph.D. – Change Questions
finance, and education in her work, Dr. Kelley has explored the multiple layers of managing and enabling organizational change from numerous vantage points.
She has demystified the complexities of Change Management, offering tangible and enduring strategies that foster operational excellence by translating sophisticated principles into practical methods.
See Dr. Lynn Kelley's presentation at our upcoming Lead Change 2023 event
Sue Noble and Amy Tarrant – Coaching People Through Organizational Change
Coaching skills have become widely recognized as a key ingredient of success in creating and implementing effective, sustainable change in organizations and teams.
Sue and Amy were among the first to recognize the lack of scholarship that fuse Coaching with Change Management, and have encouraged non-coaches and change practitioners to embrace the many coaching tools and techniques that can help deliver lasting change.
Melanie Franklin – Organizational Leadership for Change
From a thought leadership perspective, Melanie's newest work focuses on defining what we mean by the organizational capability for change and how change managers need to coach these from the business to manage themselves and others through the change.
This represents a shift in our responsibilities; we need to question what the impact is on our required skills, and if we are indeed ready for this leap.
Aneace Haddad – The Eagle that Drank Hummingbird Nectar
Every leader has the capacity to evolve. Our trials and tribulations are opportunities for growth. And by sharing them, we encourage others to see their challenges as catalysts for transformation.
Aneace is passionate about Mindful Leadership, resilience leadership, culture change, personal transformation, self-improvement, and team performance – and has pioneered research and curriculum that brings these facets together.
Dr. Grant Van Ulbrich – Learning to Manage Personal Change With SCARED SO WHAT
We can accept or reject change, and based on comprehensive and thorough research, Grant has created a new model that supports people in learning how to manage personal change during a change initiative so that they can make the decision to change themselves.
CONCLUSION: Actionable Insights for Change
At Change Management Review™, we strongly believe in the power of building community, providing new lenses in which to interpret change management practices and mindsets, and challenging the paradigms that may or may not have served us, up until now.
Like you and the change leaders we feature and celebrate, we strive to bring dichotomy and paradox to light in all of our work, while at the same time being curious about how the hearts of people connect with their lives through their practice.
As a change management professional, we want to help you to stay up to date on the profession by highlighting any new practices, ideas, tools, trends, research, technologies, thought leaders, and customer needs.
New articles that we post to our blog are announced in the Change Management Weekly, our digest of actionable insights for change delivered to your Inbox every Tuesday. To claim your free subscription, click here: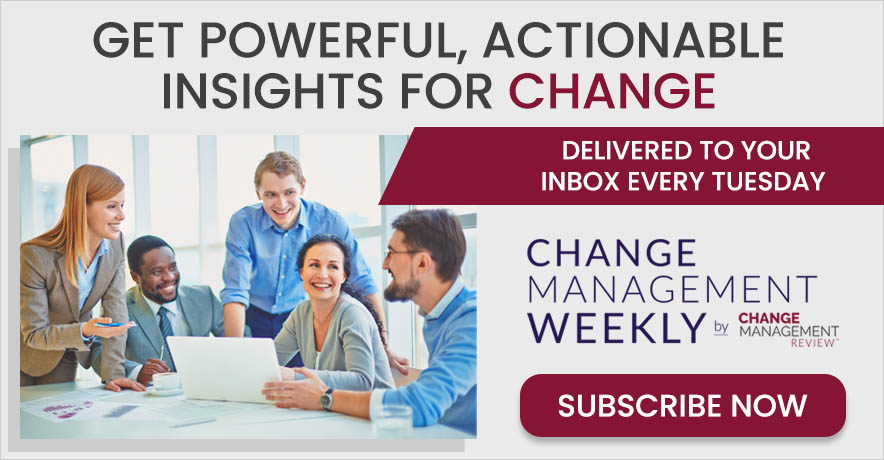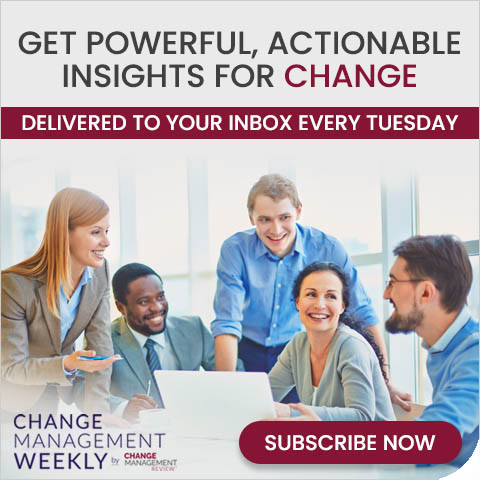 Share With Your Colleagues