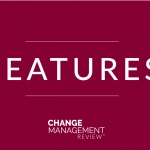 Change Management Review™ Features
Change Management Review™ is working towards providing a robust digital information resource that serves both the global business and academic communities. In addition to practical and informative articles within our primary streams of content, you can look forward to Academic Insights™, Meet the Expert, and Perspectives On, as well as several new features coming soon:
"Where Do We Come From?"— A Change Management Profession Timeline
As the change management profession formalizes and increases in significance for successful organizational change, Where Do We Come From? provides an interactive timeline that traces these roots, providing a compelling story of who and what has shaped us as a profession. Every week, we will add five names to the timeline, working forward from the earliest thinkers. We invite you to explore our professional fore fathers and mothers.
From the Field
We are interested in showcasing the expertise of professionals who are practicing currently in organizations that are for-profit, non-profit, governmental, or NGOs, especially in ways that will help others learn something new about being a change professional.
There will be different formats for "From the Field" including discussions or interviews with practitioners, a question that is answered by several practitioners, and simplified organizational change learning scenarios (modified case studies) that have been written up for CMR.
Change Stories
Change Management Review believes that personal stories of change are important to share in a professional community. Change Stories features personal stories about change, growth and development from change management professionals as individuals undergoing transformation. Transformations may have come from an insight and/or experience from reading a specific book, taking a specific course of study, working on a specific change project, or working with another, more experienced change manager.
 We look forward to your feedback and ideas for other features that will help share insight and experience among the global change management community.