Know what knowledge, skills, and attributes you need for your change management professional development plan.
To be a successful change management professional, you need to know your competencies. If you're not certain about your change management skills, it might be time to use a competency model.
Competency models can help assess one's knowledge, skills, and attributes and areas for development.
The Change Management Institute (CMI) has two competency models—a Change Manager-Foundation model for beginning practitioners and a Change Manager-Master model for experienced professionals. The Institute provides a useful explanation of the purpose of competency models, as well as an explanation of the relationship between the competencies in these models. They are a great resource for expertise in change management competency models.
What are some of the competencies?
A look at different competency models from different sources reveals a number of common competencies, as well as some differences. To simplify this, the table below lists competencies from three sources.
(Note:  Differences reflect how the competencies are framed or categorized rather than reflecting a totally different set of competencies).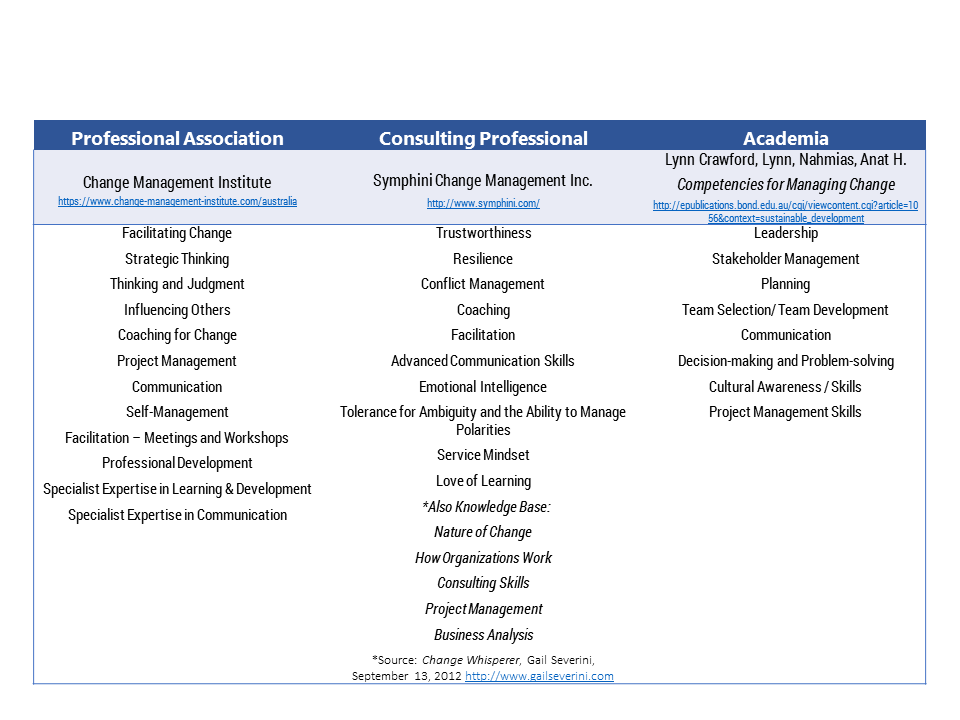 So what can I do with this list of competencies?
By taking a look at the competencies listed above, you can start to see what knowledge, skills, and attributes need to be a part of your development plan to move into the change management profession, advance in your current role, or move to a new role.  You can build a minimal evaluation tool for yourself that will help you to focus on areas that require you to build or increase your current competencies.
You will need to research and define additional information related to each competency in order to accurately determine where you need to reinforce current abilities.  Ask yourself three basic questions:
Do I feel confident enough in this competency area to apply it to most situations?
Where might there be gaps?
What do I need to do to fill those gaps?
Don't be afraid to ask friends, family, and colleagues for input, especially when you are assessing personal attributes.  They will be the best ones to provide you with feedback in these areas.
How do I fill any gaps?
When you put together your development plan, it will help to know the available sources that can assist you in filling any holes in your competency profile, or perhaps even begin a journey of advanced study in the organizational change discipline. In some circumstances you need look no further than your current employer, a local professional association, or an online entity to help with training, observation, or even an internship.
When you want to move forward more specifically or more intensely, the Change Management Practitioner's Global Directory of Education, Training and Certification provides a summary of a wide range of offerings for the change management discipline.
Have competency models helped you with your career? Share your thoughts on the Change Management Review Facebook page!