Whether your focus is on developing new business practices, implementing new technology or shifting the focus of your company's operations to a new strategy, business transformation is everywhere. Unfortunately, many of these efforts fail, and the culprit is not always bad planning or limited buy-in. Rather, the executives leading the change management efforts need executive coaching and support during organizational change and business transformation in order to be successful. Here any some thoughts by top experts on executive coaching and business transformation.
Steven Berglas, 2013. Harvard Business Review, "Get the Most Out of Executive Coaching"
"Whether it's a smoking cessation program or working with a coach to improve management skills, people claim they want to change or drop dysfunctional behaviors from their lives, but then fight like Ninja warriors to defend them.
What, then, should you do if you think you want to change and, like so many of your peers, put your faith (and a huge financial commitment) in a coach? Is it possible to develop an authentic commitment to executive coaching through sheer willpower alone? No. But what you can do is develop a mindset — i.e. new 'automatic' cognitive messages — that will help you counter your own resistance to change."
McKinsey & Company, 2011. "Top Executives Need Feedback—Here's How They Can Get It"
"By the time you become a senior executive, you have no doubt honed a set of skills and talents that enable you to be effective in your job. To help you get to this point, you likely had coaches and mentors who closely monitored your progress, prodded you to develop your talents, and, when necessary, confronted you with criticisms that you may not have wanted to hear but needed to hear in order to continue your upward path…
One of the first questions I ask senior executives is, "Who is your coach?" Many respond with a list of mentors who are outside the company or perhaps on the board of directors. These are "mentors" (versus coaches) because they do not directly observe the executive. Unfortunately, their advice is only as good as the narrative provided and often doesn't adjust for blind spots or the mentor's lack of professional familiarity with the executive.
My follow-up question—'Who actually observes your behavior on a regular basis and will tell you things you don't want to hear?'—is often met with silence."
Robert Bullock, Scontrino & Powell, 2014. Leadership Self-Insight During Change: Why Coaching Matters
"Developing insight requires help. That is why executive coaching is a powerful tool for leaders in companies that are experiencing large-scale change. Executive coaching provides leaders with the space to step back and reflect on the chaos around them in a constructive way. In a recent study on executive coaching in the midst of change, Anthony Grant (2013) found that executives who received coaching showed increased solution-focused thinking, goal attainment, leadership confidence, resilience, and decreased depression. His study also found that these effects carried over into the leaders' family lives with improved work-life balance and better relationships with family members during the org change. Most of these effects can be attributed to the personal insight and differentiation that is fostered through the coaching process."
Bain & Company, 2016. "The What, Who and How of Delivering Results"
"Who makes change happen? While some innovations come from people just doing their jobs, breakthrough ideas often need a dedicated effort from people freed from daily work pressures. But project teams overseeing the new program can become disconnected from the front line that carries out the change. It's essential to identify who on the front line is most affected and how the company can support that group of people. The typical program office, set up to track progress, often fails to take on the important role of coaching line leaders so that they can support the core group on the front line. This raises two questions: "Who is our spine?" and "Who is our coach?"
Accountability for delivering results rests with line employees and their supervisors. So it's critical to identify the people who will need to do business differently. And who has the greatest influence on these individuals grappling with behavior change? Their direct supervisor. Similarly, the person with the greatest influence over the behavior of that supervisor is his or her direct boss—and so on up the chain."
John Mattone, 2016. "Coaching for Authenticity"
"If you want to lead others, you need to lead yourself first. For organizations wanting to transform workplace cultures, there are many steps to take. One of the things that successful firms do is ask its leaders to reflect on their own leadership. Often this introspection is guided by a leadership coach, whether internal or external to the organization. This coaching relationship allows leaders to consider the changes they have to make themselves to adapt to a changing work environment.
One key element of coaching is the development of a new group of what we call authentic leaders. These are executives who lead with purpose and passion. They lead from the heart.
Authentic leaders need to look inwardly, regardless of how uncomfortable they are with doing so or what they find. Authenticity comes from this self-exam. It starts by identifying and defining the values one holds and how to adapt to changes without undue emotion.
There is an old adage that one does not choose to become a leader. They are made when others choose to follow. Others will only choose to follow willingly if the leader has identified the blind spots that can be barriers to effective relationships results.
Ellen Kumata, 2015. "Executive Coaching: Challenge to Change"
"As coaching evolves and becomes more tied to organizational strategy, the focus needs to shift from coaching executives to building coaching cultures. This is about developing coaching as an internal competency that has managers and colleagues learning/developing coaching skills and working together differently. Building a coaching culture involves using external coaches at the top of the house and developing internal coach cadres to accelerate the shift across the organization.
Here's what happens with this shift: In cultures where coaching is a fundamental component, with more people thinking like coaches, the focus shifts more regularly to developing people's talent and potential vs. managing around their deficiencies or gaps. This is new school vs. old school – and the former is proven to consistently move an organization forward faster, more efficiently, and more cost effectively."
New articles that we post to our blog are announced in the Change Management Weekly, our digest of actionable insights for change delivered to your Inbox every Tuesday. To claim your free subscription, click here: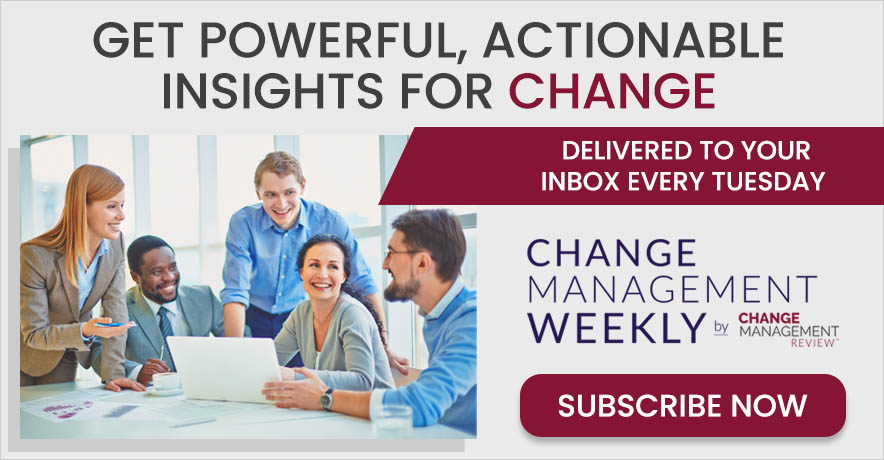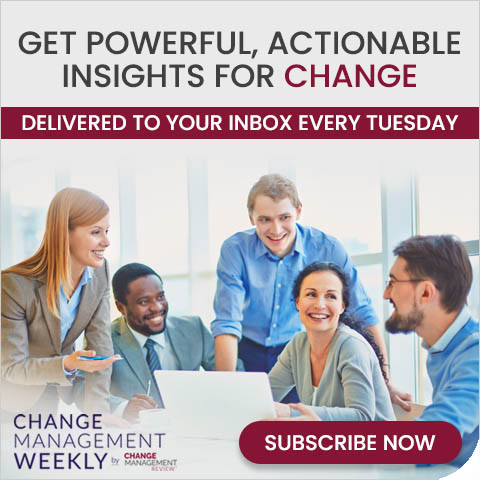 Share With Your Colleagues