Have You Experienced Leaders Who See Change as Something that Disrupts the Real Work… Rather Than Being the Real Work?

We've seen a lot of that going around lately.
And, in today's environment, that's a problem.
CEO's identify transformation as one of their highest priorities – according to IBM, 58% of market-leading CEOs "aren't simply tweaking existing products and services; they're reinventing their firms."
They can't create transformation on their own.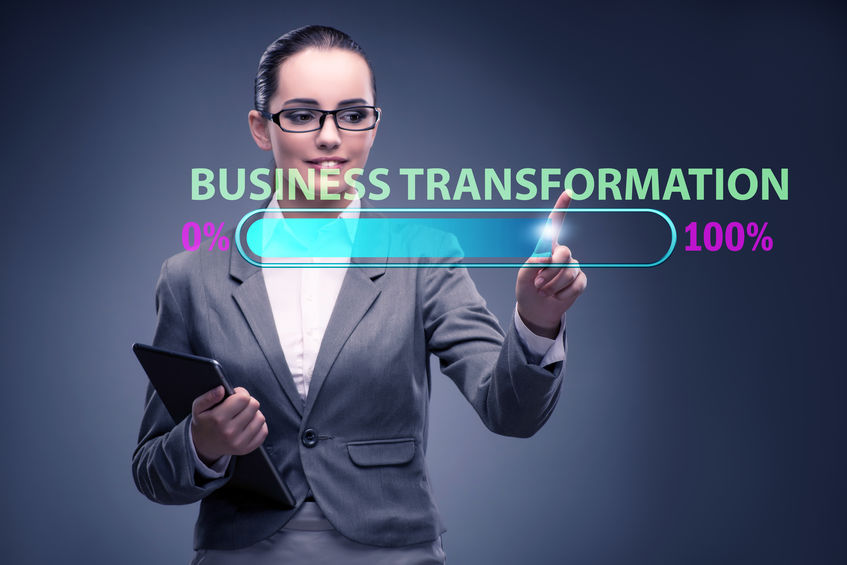 Transformation Requires Change-Agile Leaders Throughout the Organization Who Can Change The Culture.
A few at the top of the house aren't enough.
As a seasoned professional, you have the advantage of understanding change, putting you in the best position to help your organization be ready for continual transformation.
Change-agile leadership doesn't assume you adhere to any particular change management methodology or approach – it elevates your ability to create proactive, agile and engaged organizations.
Why Do You Need to Be a Change-Agile Leader -AND- a Change Management Professional?
Picture yourself playing a key role in making change a competitive advantage for your organization.
You're a strategic partner that leaders turn to for help taking ideas to innovation to execution.
You develop leaders and teams who pivot and embrace change, not as a project or initiative, but as a critical part of the organization's culture.
You role-model behaviors that increase agility and resilience, future-proofing yourself, your team, and the organization. And you're helping leaders see that executing on today's priorities and building for the future is a priority.
Whether you're working from the outside with an organization and its leadership or are an internal professional, you will provide substantially different and more strategic impact when you develop the key behaviors of change leaders.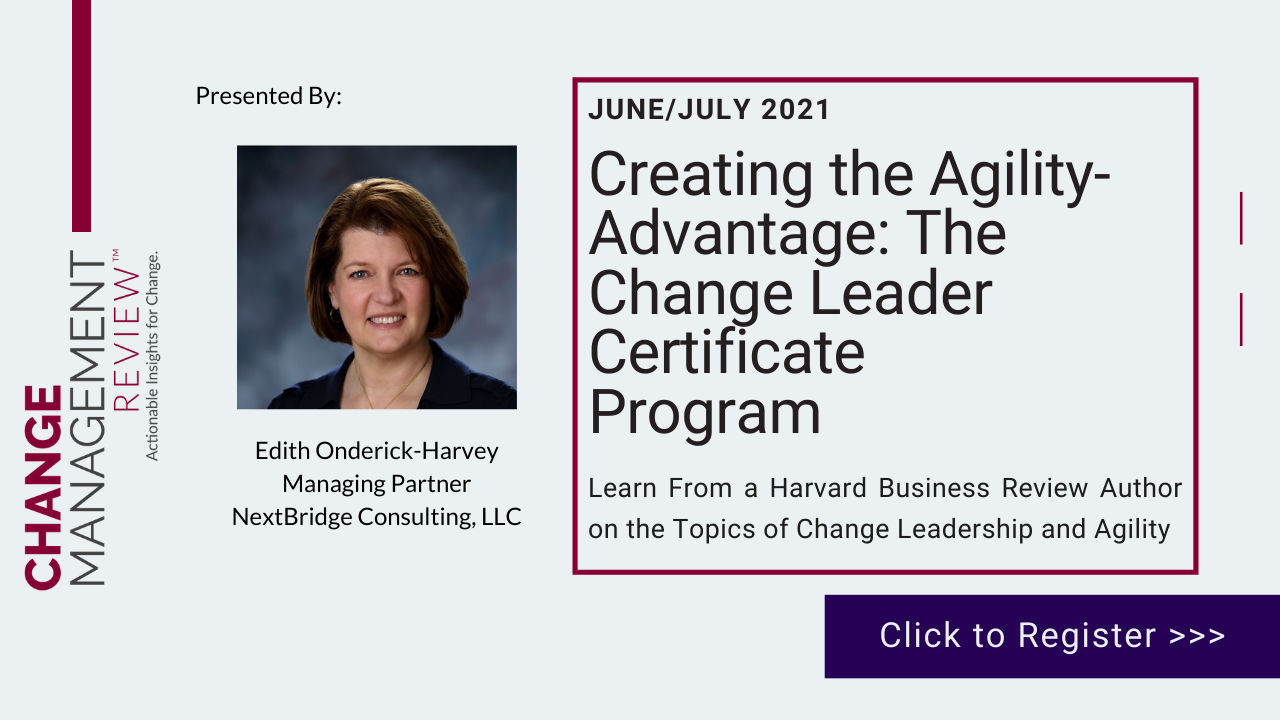 Becoming a Change-Agile Leader is the Decisive Factor that Makes Rapid Change Successful
Joining us for Creating the Agility-Advantage: The Change Leader Certificate Program means you will:
Be introduced to the change-agile mindset and receive your personal change leader profile based on the results of your personal assessment using NextBridge's Change Leader Accelerator
Develop a deeper understanding of what's really behind leaders' and their team's change abilities and challenges.
Create a compelling vision for change
Utilize tools for creating greater influence that begin to create the change-agile culture. You'll create a plan, take action, and coach leaders to shift their team's thinking and behaviors
Identify, assess, and build the key networks you need to get change done. You'll map your network and create a roadmap for increasing its effectiveness
Create a roadmap of interactions you can use to engage your leaders and your team differently in change
Identify opportunities for integrating agility into the organization and unleashing your team's change agility
Who Should Attend the Creating the Agility-Advantage: The Change Leader Certificate Program?
This Program benefits change management professionals and those who influence organizational culture – who want to create organizations where change agility and change leadership are part of your competitive advantage.
It does not assume that you adhere to any particular change management methodology or approach – actually, it's designed to make you much better at whatever methodologies or approaches you are currently using.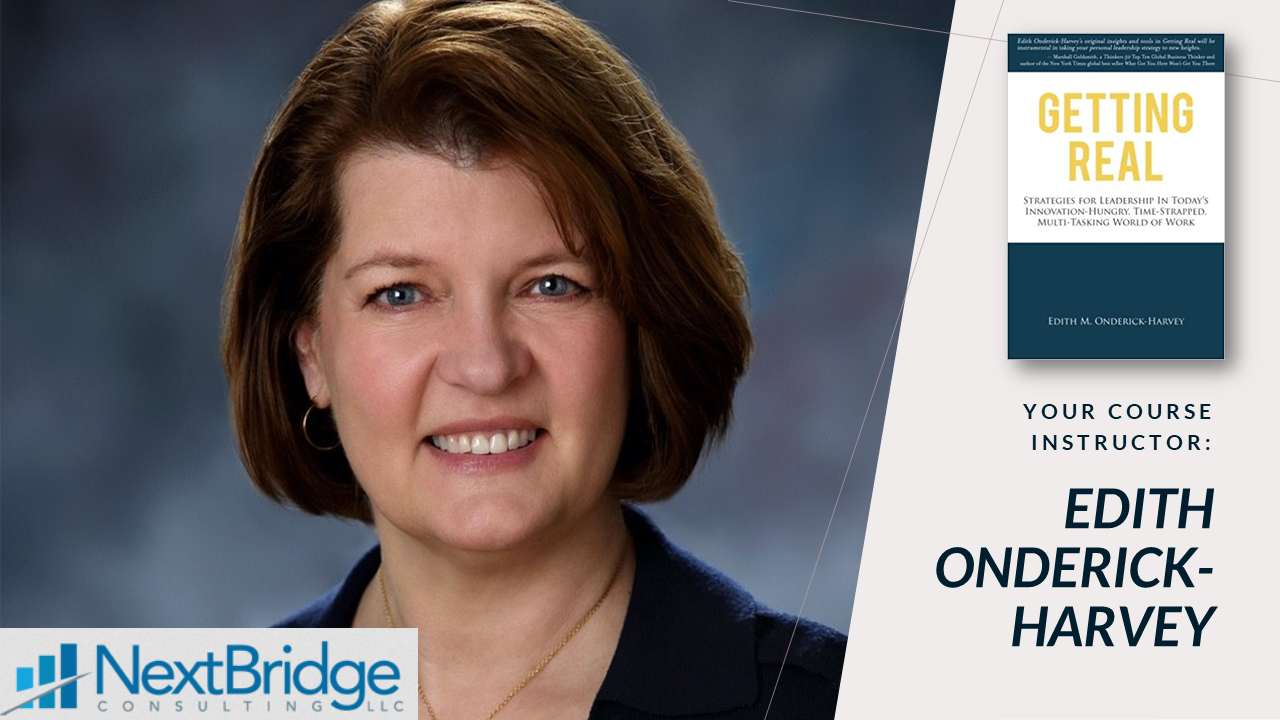 You Will Learn From a Harvard Business Review Author on the Topics of Change Leadership and Agility

Like you, leadership and change expert Edith Onderick-Harvey (founder of NextBridge Consulting) knows that our work lives are complex and rapidly changing. She works with clients who have two things in common – rapid growth and change curves that require a partner who can help them bridge today's challenges and get ready for what's next.
As author of Getting Real: Strategies for Leadership in Today's Innovation Hungry, Time-Strapped, Multi-Tasking World of Work, Edith's insights have been featured in Fast Company, The New York Times, CNN.com, HR Executive, Yahoo Finance, CLO Media, and other media outlets.
Connecting with Edith by joining us for this program means you will be equipped to create:
A business-case for change-agility in your organization
Direction, alignment, and commitment from your organization as you model effective change-agile leadership
Leaders, teams and, organizations that proactively take advantage of opportunities and thrive in any environment
Immediately actionable behavior changes that will increase your resilience and agility and prepare you to translate that across the organization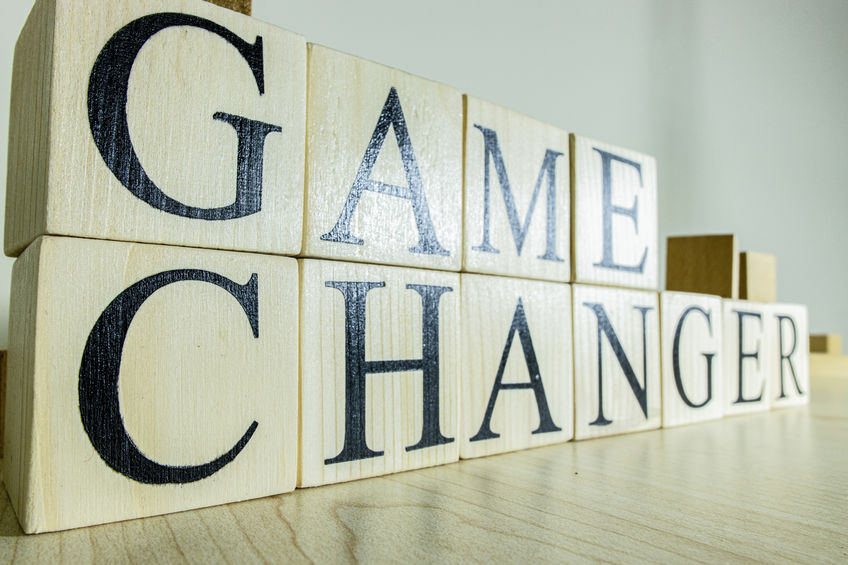 Here's How the Creating the Agility-Advantage: The Change Leader Certificate Program Works
This is a vigorous, highly interactive program for professionals who are dedicated to creating agile, proactive organizations that focuses on your unique situation and gives you a practical roadmap for increasing yours and other's change agility and leadership.
The program starts with a self-assessment to better understand your change leader strengths and challenges
You'll participate in eight (8) weekly, 90-minute virtual sessions
You will apply your learning from each session to your unique situation and have assignments to complete between each session
There will be opportunities for 1-on-1 meetings with Edith Onderick-Harvey
A private, group channel will be available for feedback and collaboration between sessions
It takes place June 1st, 8th, 15th, 22nd, and 29th, and July 6th, 13th, and 20th – each day from 1:00 PM until 2:30 PM Eastern.
Put together, this Creating the Agility-Advantage: The Change Leader Certificate Program will prove highly useful as you support your organizational change efforts, and support organizational leaders as well as employees and teams in their successful navigation of your changes.
Due To The Nature Of This, Only The First 20 Will Be Accepted – Here's What You Gain When You Get Started Today
When you enroll in the Creating the Agility-Advantage: The Change Leader Certificate Program now, you'll enjoy:
Instant access to the Members' Area – here we will post all the downloads and resources (as we go through each week), as well as the replays after each session – log in and begin to see yourself powerfully mastering this material
Eight weeks of LIVE interactive training – this is also your opportunity to gain support and get answers to the questions that naturally arise as you master and apply the material to your own unique situation
A Certificate – once you complete the Certificate Program, this will be a powerful credential, backed by your instructor's years of hands-on experience and wisdom in the field, that will raise your market value in the Change Management industry!
The Creating the Agility-Advantage: The Change Leader Certificate Program is available for a strictly limited time, and only for twenty (20) people, for just $895 USD.
As soon as you complete your secure payment online, you will set up your username and password for instant access and to be informed of your unique, personal live-attendance link.