Podcast: Play in new window | Download
Subscribe: Apple Podcasts | Google Podcasts | RSS
In this far-ranging conversation, Beth Montag-Schmaltz, Principal and Founder at 71 & Change, joins Managing Editor Brian Gorman to explore the changing practice of change management. The theme of measurement runs through the conversation, from the importance – and an approach – for measuring and tracking initiatives across an enterprise to the role that measurement will play in successfully responding to the Great Resignation. Beth also shares her key messages to leaders who are looking for how to best respond to today's turbulent changes in workforce dynamics.
Tune in to get Beth Montag-Schmaltz's answers to questions such as:
Where did the name of your company, 71 & Change, come from?
What do you mean when you talk about measuring and tracking initiatives across an enterprise?
What are some examples of the types of engagements you bring this thinking to?
How are you seeing the Great Resignation impact your clients?
One piece in the answer to the power shift between employers and employees being piloted, explored, and even executive is a shift to a more flexible work schedule, workplace, work week, less work hours, etc. What implications does this have for us as a profession?
If you could address the leadership of the Fortune 500 companies about moving through this era and their approach to change, what are the key messages you would want to give?
What do you see as key areas for us as change practitioners in terms of innovating as we move forward in this shifting world?
About Beth:
Beth is a recognized researcher, practitioner, innovator, and thought leader in the field of change management. Throughout her 20-year professional journey, she has designed and managed complex change management programs for countless strategic and high-risk corporate initiatives. Beth uses her wealth of knowledge, experience, and creative energy to guide organizations and their leaders through uniquely tailored change processes designed to produce concrete returns on their investments.
In addition to founding 71 & Change, Beth was a founder of the PNW Chapter of Association of Change Management Professionals (ACMP) and is responsible for establishing the first US-based regional ACMP community of change practitioners. Today, Beth is pioneering advances in two unique areas of change management: developing best practices for measuring and tracking change initiatives across the enterprise, and building sustainable, change-capable organizations. A respected industry author of articles and white papers, Beth provides companies with the unconventional wisdom to reach and often exceed their business goals. Beth developed deep experience in the telecommunications industry before moving on to lead projects in high technology, non-profit, manufacturing, and financial services. She has a Bachelor of Arts in Communications and minor in Psychology from Baldwin-Wallace College in Ohio and an Executive MBA from the University of Washington.
New episodes of the Change Management Review™ Podcast are announced in the Change Management Weekly, our digest of actionable insights for change delivered to your Inbox every Tuesday. To claim your free subscription, click here: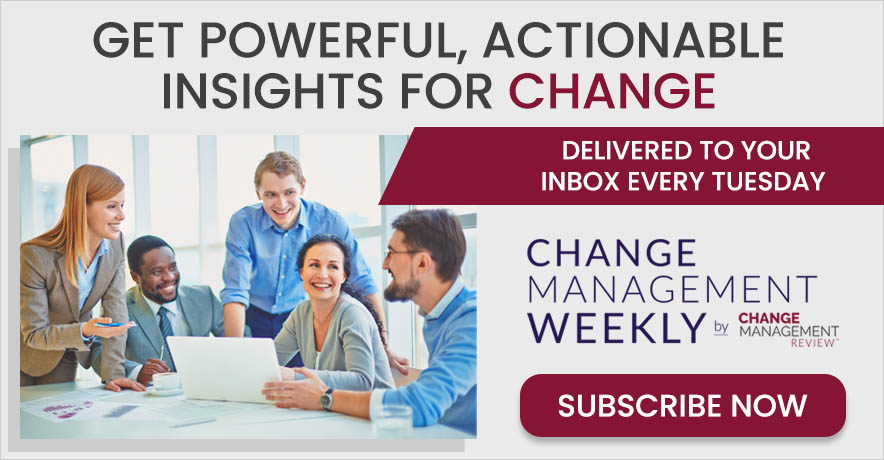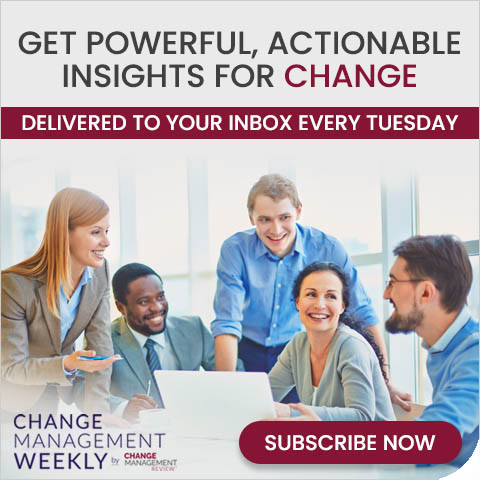 Share With Your Colleagues