Our Editor-in-Chief, Theresa Moulton, had the pleasure of interviewing Heather Stagl as our featured expert of the week.  Enjoy learning more about how Heather entered the change management field, why Influence has become a central topic in her work, and what advice she offers to today's change management professional.
---
As founder of Enclaria, Heather Stagl equips individuals and teams to influence change at work through individual coaching, team workshops, and training programs. She is a blogger and radio host of the "Influence Change at Work" show on BlogTalkRadio. She is the author of 99 Ways to Influence Change and the change management toolkit, The Irresistible Change Guide. She serves on the board of Organization Change Alliance, a learning community of organization change practitioners in Atlanta.
Can you tell us about how you become interested in change management, which I found to be a very interesting story?
I started out in industrial engineering (IE), which is about process improvement and efficiency. IE has its background in Taylorism—all about taking people's jobs apart and then putting them back together. From a change management perspective, you're always thinking why do people do their job a specific way. So I became interested in how we influence people to change. As a young engineer, I found I was redesigning some of the jobs for people and suggesting: "Hey why don't you try doing it this way?" They would look at me like: "I've been doing this for fifteen years. Who are you to say I should do it differently?"
Part of my coming to change management was experiencing the situation I just described and being frustrated with it and, at the same time, realizing there's got to be a better way to get people to do things (with something that I don't know about yet). Part of it was wondering why I had to come up with all the improvements instead of just asking the people who've been doing this forever: "What would you do if you could make it better?" Change management was on my radar but I was not specifically looking at it as a career path.
What path did you take to enter the change management profession?
I went back to school to get an MBA with a focus on leadership and change management because, for the most part, I knew there was this gap that I needed to learn more about. At that time, I was still going to school just to be a better industrial engineer.
While in school, I was learning about change and how organizations should work. I would bring this information back to my company and talk to my boss about it. I asked him if I could try what I had learned. I was lucky enough to have both a boss and the boss of my boss (who was the CEO) who were willing to let me try. So I ended up working on projects like helping the executive team develop a strategy because they didn't have one written down nor did they really talk about it and working on developing a more engaged, more innovative culture. We wanted to get ideas from the people who were doing the jobs instead of just from management or engineers.
Over the course of seven years, I went from being an industrial engineer to being the director of organizational effectiveness and industrial engineering because they wouldn't let me let IE go. It wasn't a large enough company to have a full time industrial engineering head and a full time organizational effectiveness person, so I ended up having to fill both roles. The way that my boss put it was: "If you're going to have one foot in the clouds, you need to keep one on the ground." Of course, he viewed IE as the foot on the ground.
I knew I wanted to leave industrial engineering and change my career. So when my family moved from Chicago to Atlanta, I started working for the Balanced Scorecard Collaborative of the Palladium Group. I was running a two-year executive working group program where people came to us from all over the world—all different industries and different roles—people who were responsible for executing strategy in their organizations.
I know your latest book is 99 Ways to Influence Change. How did you get from strategy execution to influence?
Even though the program I was running at Palladium was an executive working group program, most of the people were actually not executives but mid-to-senior level managers who were assigned the responsibility for executing strategy.
It was an enlightening experience because I had done systems implementation, process improvement, strategy and culture change—a bunch of different projects. But all of my projects had similar challenges when it came to influence. I was always wondering: "Is it just me, or . . .?" But then I started hearing from the people coming in as clients that this challenge is common—it wasn't just me.
One day a participant said: "You know, this stuff you're teaching is great when you do it. But I have to go back to my company and figure out how to make it happen." And the light bulb turned on for me! I thought: "That's what I want to do—help people bridge the gap between "I can read this book and see that this company did something great" AND "I still need to figure out how am I going to make that happen in my own organization." So I started Enclaria seven years ago. As they say, the rest is history.
Enclaria focuses primarily on influence. What are the underlying principles of your emphasis on influence related to change management?
The influence piece for me is key. I don't really think you can separate change management from influence—it is critical to executing on strategy. I wrote a book in 2010 called 99 Ways to Influence Change. Once I knew that influencing change would be my focus, I read as many books as possible about influence. What I found was that the authors were all kind of saying the same thing. So I decided to answer the question: "Are they all, in fact, saying the same thing?" I went through each author's "models," (for example, John Kotter's eight steps, Darryl Connor's burning platform, and Robert Cialdini six ways to influence people) and just started writing all these various models or recommendations down. I matched things together and came up with thirty-five or forty different ideas from the books. When I looked at the list, I knew there were still many more techniques that I had used during projects. So I started making my own list—a personal challenge to see how many I could articulate. I stopped at 99 because I figured: "That's enough." Then I started blogging about it, even considered Twitter—like one a day tips. But some items needed more explanation so maybe it's a blog series. Halfway through writing the blog series, I concluded: "I'm actually writing a book here."
So when I finished the blog series, I put them all in a book, edited it and published it with the concept that there are many different ways you can influence change. It's not just doing these five things and it'll happen. You have to draw on science, you have to draw on art, your own intuition and your own relationships, and figure out how to make influence work to achieve change.
What would you say is the one thing change management professionals can count on from reading your book?
Ideas. Because inevitably when we're implementing change, we get stuck somewhere and frustrated. We're dealing with a person who has their feet dug into the sand; the things you've tried so far have not worked. I've heard that's how people use the book—just sort of flip through it to get ideas. It's actually very short—just 99 pages addressing one idea per page. So people can just flip through, point a finger and decide to try this idea today—"It's something new I haven't tried yet."
Do you think executive coaches will find applicability in their coaching sessions with the client? After a while, it can get to: "All right I've asked these questions, now what?"
I think that we all get stuck in our comfort zones. Or we have certain questions or certain actions that we tend to do because we know them or they're comfortable. We do them well, but having an option for an available list of new ideas that you can try is going to push your out of that comfort zone. I think it can be helpful, for sure.
What are your thoughts about where the change management field is heading? What do you observe about how people perceive change management in the marketplace?
When I first started Enclaria seven years ago, it didn't seem like there were many people who had change management in their title. We're not only seeing more people with that title, but also seeing that they are dedicated resources within a company to do specific change work. If companies continue to be healthy and we avoid another recession, companies will continue to realize the need for change management professionals and invest in change.
I like the fact that the Association of Change Management Professionals is moving forward with their certification and has developed the standard. I think it needs work still I think it's a step in the right direction. I like that, as a community, we're getting together to try to figure out what really works. I think we will continue to see lots more discussion on how we do this thing called change management.
What major trends do you see for change management in the next three to five years?
I don't know if this is a prediction or a hope. We're starting to see more people who have change management in their title. But I'd like to see more people have change as an integral part of their job, even if it's not in their title. I'd like to see more project managers realize that they need to incorporate the people side into their projects, even incorporate process improvement, and Human Resources becoming more strategic—different disciplines that rely on people to change the way they work in order to make strategic change happen.
I don't want the change management field to become insular and adopt the attitude that: "Well you're in HR or you're a project manager, so you're not a change manager. I personally want to be sure that doesn't happen to us, but rather we become more inclusive. They have to be able to see what I saw a long time ago—there's a gap and what can be done about closing it.
How would you mentor someone coming into the field with only three to five years of business experience in terms of their first projects?
I would suggest working with someone who has been working in the change management field for a while. I would work with them on the influence piece. Like not stopping when you get to a point where you feel like you're up against the wall, you're getting frustrated—people aren't changing or they're not doing what you need them to do. But having the courage to say: "If I'm responsible for this change, then I'm responsible for making sure it can happen. So I need to have those conversations that I really don't want to have. I need to step forward in meetings and speak up and talk about it and put myself out there—as the change agent." Warning newcomers not to blame the organization, but themselves for not stepping out and doing what needs to be done to make change work.
I've talked with some people who are new in change management. When they are not getting what they need, they just decide to go to another organization. One individual I talked to recently got a change manager position that ended up being more administrative than she thought it was going to be. Rather than talking to her boss about it, and saying she wanted more responsibility and would like to make more of a difference, she was just going to look for another job. So when it comes to advice, I think it's helpful for the generation younger than me to know you have to ask for what you want rather than just walk away from a situation.
Is there anything else you thought about that you would like to be associated with your voice in the discipline?
I actually have a tool kit called The Irresistible Change Guide —irresistible really being more about yourself, and the idea of knowing what you need and helping other people define what they need so you can help the organization move forward and not get stuck. It's a change management toolkit—a workbook and a number of electronic templates. It starts with clarifying the change—a step that is very often skipped. We assume we know what we're about to execute. You need to look at what really needs to happen in order for the change to be made. So there are exercises and templates around that idea. And then some tools on resistance. We assume we're going to encounter some resistance. Is it true that all people resist change? Not necessarily—it depends on the person and the change and the environment. We're likely to encounter something but we just have to figure out where that is—so the toolkit has some exercises around uncovering that resistance and then reducing it.
It includes leveraging leadership: the people who have authority in the organization to make sure that they're doing what they need to do to support change. What do the leaders need in order to support their employees? How do we support both the leaders and the employees and how do we gain the support of both groups? There's a step-by-step process just to think about who the leaders are: what level of support you have, what level the leaders are at now, and what might be causing a gap between where they are and where they need to be—determining what might be the sources of resistance around leading the change and then working to close that gap.
And then what I call structural influence—building methods that are going to help move large groups of people in the same direction, like communications and training—all kinds of programs and tools and systems. And, of course, the personal influence piece i.e., if you build it, it doesn't necessarily mean they're going to come. You can have a perfect design and a perfect communication plan, execute on them, and assume that it's going to work. You still have to convince the managers to have the meetings with their people and make sure they're saying the right thing. So there is a part about building up your personal power in the organization—how you build your own personal influence using the two main avenues of individual conversations and meetings. Yes, meetings! If you have bad, boring meetings, people think the change is bad. So let's have good meetings so that people think the change is actually actually productive and helpful.
I tried to make the toolkit very practical, not only thinking about what you have to do but what is the best tool to use. I deliberately made it so that it's not exclusive of other methodologies. If you have your Prosci certification, you can use ADKAR in that structural influence piece. I know people who meld the two pieces together. If you have a methodology that you really like, you can still incorporate it and have it be a complete picture.
I've used it at the organization level with a leadership team to help them come up with a strategy and determine how they were going to execute on it. It can be used iteratively in an organization—figure out the strategy, what projects you need, and then use the same methodology on each project and with individual departments.
Thank you so much, Heather. I think you've given our audience a lot to think about. If you had one final piece of advice to offer change management professionals coming into the field, what would it be?
Probably to learn as much as possible. Don't just focus on one methodology but look at getting many different methodologies and key tools into your tool kit. So when you get into a situation, you're not the person with a hammer looking for the nail that's not there.
Upcoming Enclaria Events:
Webinar: How to Deal with Resistance to Change
April 19 @ 1:00 pm EST – 2:00 pm EST
Workshop: How to Influence Change at Work
May 18 @ 3:00 pm EST – 6:00 pm EST
ACMP Change Management 2016 Post-Conference Workshop
Dallas, Texas
New articles that we post to our blog are announced in the Change Management Weekly, our digest of actionable insights for change delivered to your Inbox every Tuesday. To claim your free subscription, click here: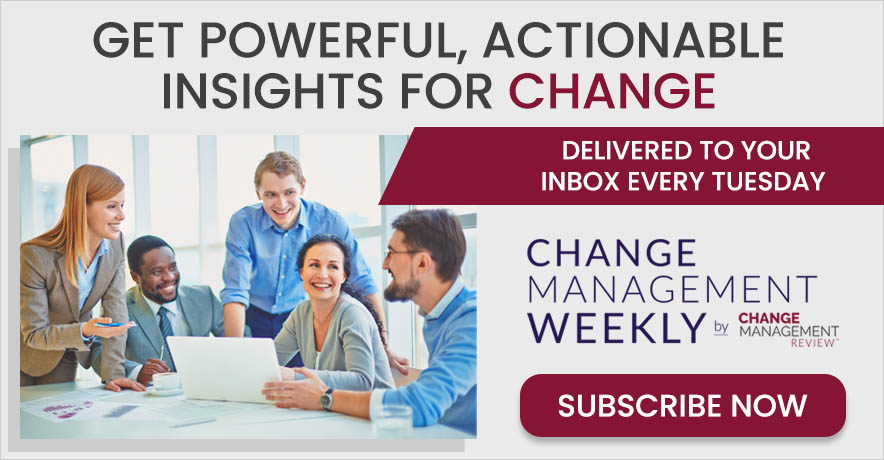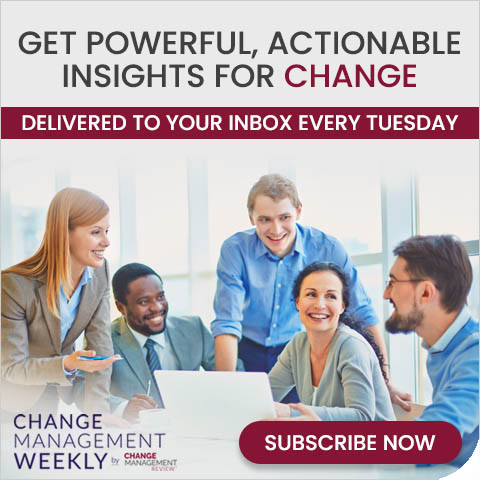 Share With Your Colleagues