As most change management professionals know, sponsors help provide clear direction for company change initiatives. They work to secure project resources and develop management buy-in at all levels of the company. Sometimes sponsors work in project management, and other times they lead transformation efforts and spark organizational change. But they always bridge that gap between what is happening in a change initiative and the goals of the organization as a whole. As such, their role in change leadership is an important one in that it provides an identity to projects and makes initiatives relevant to the strategy of the company as a whole. Here are what some of the top professionals in change leadership and project management have to say on sponsorship, its challenges and the conditions that make sponsor efforts successful.
Vincente Gonçalves and Carla Campos, 2013. HCMBOKÒ: Human Change Management Book of Knowledge.
"Every change process needs a sponsor, someone with credibility and power to drive the change, monitor it and intervene whenever necessary.
The Sponsor is an active agent committed to the change and ultimately responsible for its meaning and purpose. The Sponsor's activities can be intense, especially in communication, conflict management and Stakeholder engagement promotion . . . The Sponsor should be responsible, at least, for the initial communication of the change purpose, ensuring that the sponsorship, even if sometimes represented by a steering committee of high representativeness, is inexorable."
Paula Alsher, 2016. "A Sponsorship Reality Check: 5 Common Myths Debunked"
"Myth: The Executive Sponsor has more impact on reinforcing a change than anyone else.
Reality Check: The Executive Sponsor can really only reinforce new behaviors directly with his or her own direct reports.
"One of the most difficult truths for Sponsors to accept is that they can't change behavior of people who don't report to them. Many changes stall out because the Executive Sponsors fail to start the cascade of demonstrated commitment with their own direct reports, falsely assuming that these senior leaders will just do the right thing.
It's important to remember that leaders reinforce the behavior of their own direct reports through what they reward, and what negative consequences they put in place. This is exactly why Steering Committees are not a substitute for Sponsorship—these leaders do not have the authority to apply reinforcements to anyone outside of their own direct reports. Steering Committees are decision-making bodies for governance of projects, but you will still need to have Sponsors at each level of the organization, and in every area impacted by the change in order to actually change behavior."
James Harrington, Project Management Institute, 2013. "The Sponsor as the Face of Organizational Change"
"The relationship between the sponsor and the different entities that make up the project management system is a two-way street. It's a win-win situation with better information exchange that allows for effective performance of their assigned responsibilities more effectively. Having an honest, open exchange of information between the entities provides the best overall benefit to the total organization . . . A top-down change project begins with the executive sponsor promoting the project. Acceptance and support of the change by all of the stakeholders, including those who may not have direct contact with the executive sponsor, is important. To accomplish this, the executive sponsor should enlist the help of the mid-level managers who have the power to legitimize the change with first-level managers. Once the mid-level managers are on board, they engage the first-level managers and communicate the purpose and value of the change. The buy-in from first-level managers allows them to become sponsors of the change to their teams."
Conner Partners, 2009. "Essential Truths About Sponsorship"
Of the four primary roles in the change process (sponsors, agents, targets, and advocates), none is as crucial to successful realization of change as that of sponsor. Yet, as practitioners, we often don't bond with these leaders effectively enough to carry out our responsibilities. I think this is the biggest problem we face as practitioners: Even though we know how important sponsors are to successful change, we don't always do what we could to help them succeed.
Guiding sponsors toward new behaviors and mindsets is the heart of our profession. Maybe it's time to invest more energy in exploring what we need to learn and what needs to shift in our own actions so we can be more influential with sponsors.
(Related: Due Diligence in a Change Management Project)
Project Management Institute, 2013. Managing Change in Organizations: A Practice Guide
"A sponsor provides resources required for change and has the ultimate responsibility for the program or project, building commitment for the change particularly at the senior management level across the organization. Direct responsibility and accountability for the change needs to be clearly defined and accepted at an appropriately high level within an organization. Consequently, the sponsor for a change effort should be someone who has sufficient authority, influence, power, enthusiasm, and time to ensure that any conflicts that could impede the change are resolved in a timely and appropriate fashion… The sponsor's active and visible support of the change from initiation to completion is important to deal with the organization's internal politics, to ensure that stakeholders are represented and continue to actively support the change throughout the process, and to build alliances with others across the organization to ensure a successful outcome."
(Related: Context and Conversation—Two Effective and FREE Tools to Use During Change Initiatives)
New articles that we post to our blog are announced in the Change Management Weekly, our digest of actionable insights for change delivered to your Inbox every Tuesday. To claim your free subscription, click here: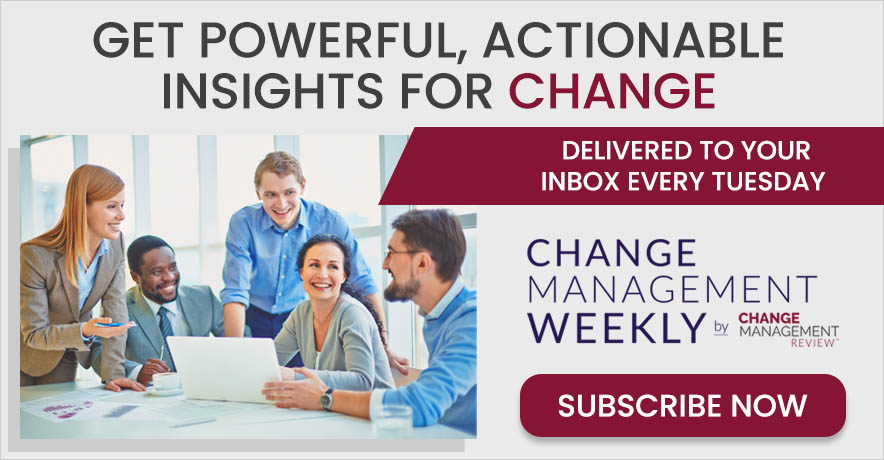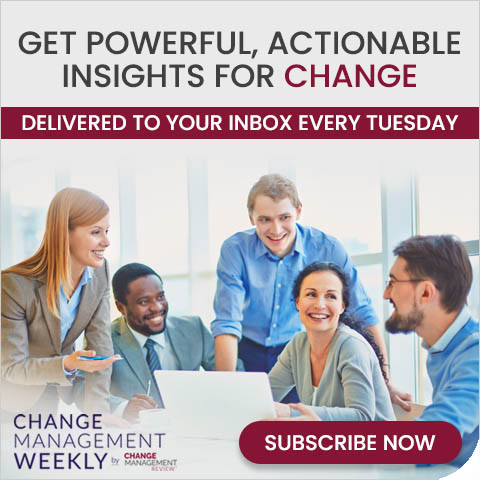 Share With Your Colleagues