Podcast: Play in new window | Download
Subscribe: Apple Podcasts | Google Podcasts | RSS
What if, instead of seeing change as difficult, costly, and "weird" or outside the ordinary, we were to look at it as easy/doable, rewarding, and normal? In this podcast, Proteus International's founding partner Erika Andersen and Change Management Review Managing Editor Brian Gorman begin by exploring this mindset shift. Erika believes that this should be the mindset for all change. She makes the case that leaders, individuals throughout the organization, and the organization itself must make this mindset shift, and that our role as change practitioners is to guide them through it. Erika and Brian go on to discuss a simple change model as well as practical tools for helping bring together both the technical and the human sides of change management.
Tune in and get Erika Andersen's answers to questions such as:
One of the things that I admire about Change from the Inside Out is its very clear statement that before any change is possible, a mindset shift is necessary. You present this in a very practical way, using a case study that everyone can relate to that you carry throughout the book. Most change methodologies don't articulate or provide guidance on the importance of that shift or how we as change practitioners can guide organizations through it. Would you begin by telling us about that mindset shift?
How receptive to the idea that they need to rewire themselves, changing their mindsets as well as how they show up, if they are to successfully change their organizations?
As I read the book, it became clear that you see the change practitioner as wearing several hats. We are counselors/advisors. We are teachers. We are catalysts. Could you talk a bit about the importance of these and any other roles you believe we hold?
What is the change arc?
I admire the practical structure that you offer to readers. You talk about change at three levels: leaders, individuals, and the organization. You offer a five-step change model: clarifying the change and why it's needed, envisioning the future state, building the change, leading the transition, and keeping the change going. For each step you identify goals for leaders, individuals, and the organization. And you give readers an invitation to "try it out" throughout the book. All of this is designed to provide "simple ways to make managing change faster, easier, and less painful." What value can practitioners who are embedded in a particular methodology or change approach find in your thinking?
What final thoughts do you want to share with our listeners?
About Erika Andersen:
ERIKA ANDERSEN is the founding partner of Proteus International, a coaching, consulting, and training firm that focuses on leader readiness. For over three decades, she's served as a consultant and advisor to top executives at today's leading organizations, including Amazon, Spotify, Charter/Spectrum, and the Yale School of Public Health. She's the author of four bestselling books, including Growing Great Employees and Be Bad First; is a popular leadership blogger at Forbes.com; and is the host of The Proteus Leader Show, a business and leadership podcast globally ranked in the top 10%. Her newest book is Change from the Inside Out: Making You, Your Team, and Your Organization Change-Capable (Berrett-Koehler Publishers; October 26, 2021).
New episodes of the Change Management Review™ Podcast are announced in the Change Management Weekly, our digest of actionable insights for change delivered to your Inbox every Tuesday. To claim your free subscription, click here: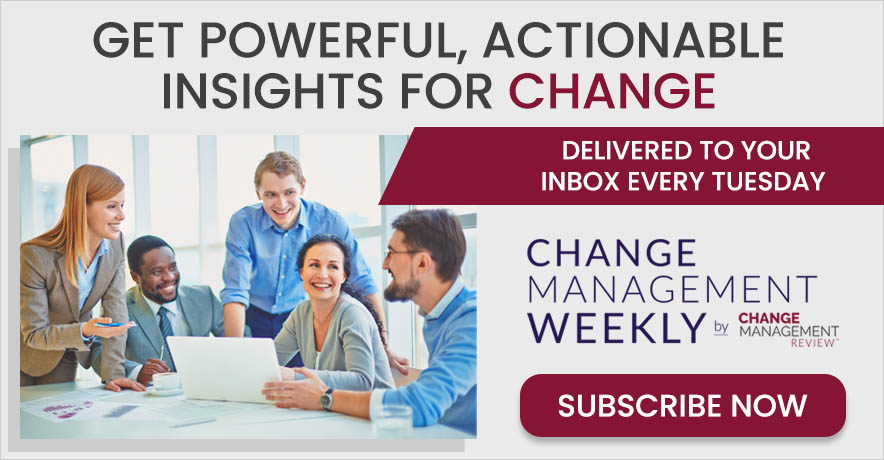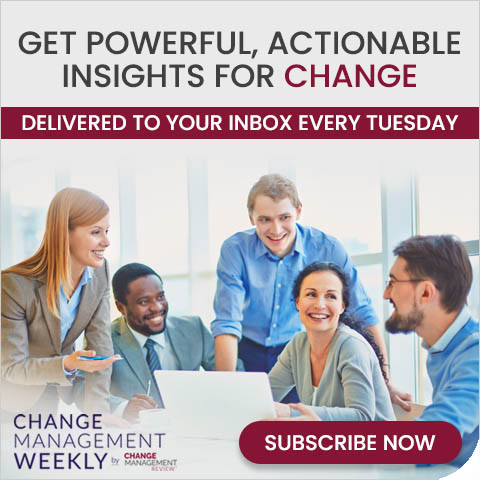 Share With Your Colleagues