Podcast: Play in new window | Download
Subscribe: Apple Podcasts | Google Podcasts | RSS
What we don't know about our employees may be one of the keys to why so many of our change initiatives fail to deliver on their promises. In this episode of the Change Management Review podcast, Managing Editor Brian Gorman discusses the role of trauma in change. Tricia Steege, who has done significant research in this area, identifies trauma as "the silent stakeholder."
Approximately 25% of adults have experienced four or more adverse childhood events, according to a study by the CDC and Kaiser Permanente. These events affect the development of the brain which, as adults, can mean that our employees may be triggered into a fear-based response by messages that have a much different response in others.
Tricia and Brian discuss the importance of addressing the silent stakeholder, whose responsibility that is, and the importance of preparing those individuals to communicate change effectively.
Tune in to get Tricia Steege's answers to questions such as:
Could you give us some background about your research into what you are now referring to as "the silent stakeholder?"
What are some of the key statistics around trauma that are important to its impact during change in the workplace?
Clearly, we are not doing psychological studies of our employees. So how do you deal with this silent stakeholder?
Who is the key communicator in the organization regarding change?
What else is important for our listeners to know about this topic?
About Tricia Steege:
Tricia Steege, Founder and CEO of Transformation Strategies is a seasoned organizational change consultant with 30 years of experience completing successful engagements with companies based in the US, Canada, Europe, South Africa and the Asia-Pacific Region.  Tricia often speaks about organizational agility and change management. But her greatest passion is coaching leaders to help them explore what is getting in their own way of building the trust-filled relationships with their direct reports to enable those individuals to make the personal decision to adopt the change their leaders are trying to influence.
Tricia is frequently sought out for her expertise in strategic planning, leadership development, learning and instructional design, and virtual leadership.  She is known for her ability to quickly identify root cause issues and facilitate situations of high change to resolution. Tricia has held several board leadership roles with the Healthcare Business Women's Association, American Society of Training and Development, and Organizational Development Network. She has served as faculty in the continuing education programs of Penn State University Great Valley and Temple University teaching courses in Change Management. Tricia is a published author in several professional journals and has been a featured speaker at numerous conferences including the Project Management Institute (PMI) and the American Society Training and Development (ASTD).
Tricia Steege: tsteege@transformstrat.com
New episodes of the Change Management Review™ Podcast are announced in the Change Management Weekly, our digest of actionable insights for change delivered to your Inbox every Tuesday. To claim your free subscription, click here: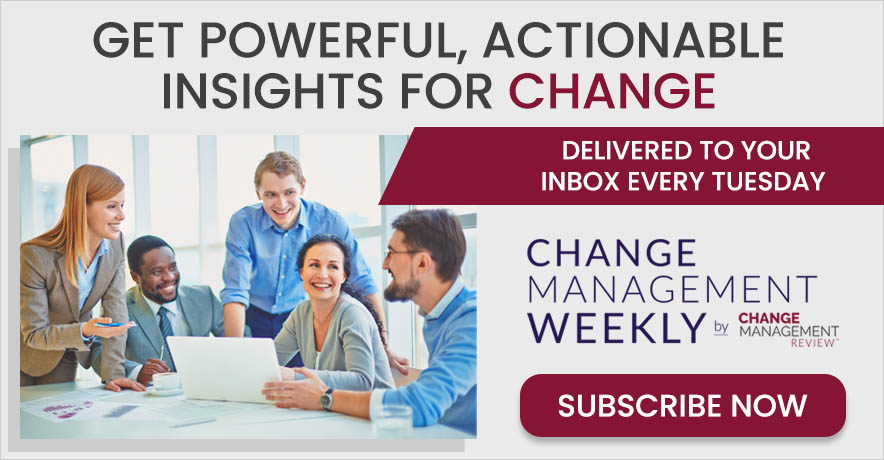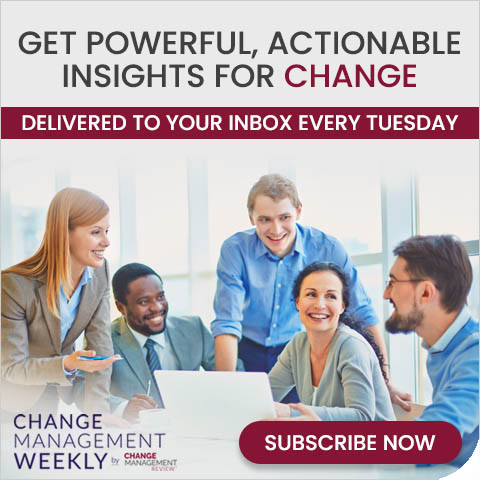 Share With Your Colleagues