CALL FOR NOMINATIONS: Tell Us Who We Should Feature On Our "Top 50 Change Professionals To Follow" List!
"Strive not to be a success, but rather to be of value." – Albert Einstein.
We are pleased to announce the launch of the annual Top 50 Change Professionals to Follow List!
Every year, Change Management Review will highlight, honor, and celebrate the Change Management Professionals who are working hard to serve our professional community, advance the discipline, and share their knowledge and expertise.
Our Vision: How This Serves the Change Management Community
We aspire to connect the global change community with the most energizing, innovative, and inspiring change professionals.
We will do so by highlighting their work, creating awareness about their expertise, and celebrating them.
We will publish the list and encourage all members of the global change management community connect with and follow them.
We strongly believe that in the year when many of us are still working from home and isolated from our physical communities, we can help facilitate meaningful connections and break barriers between people.
We are passionate about making it easier for change professionals to connect with each other, get inspired, and learn from each other.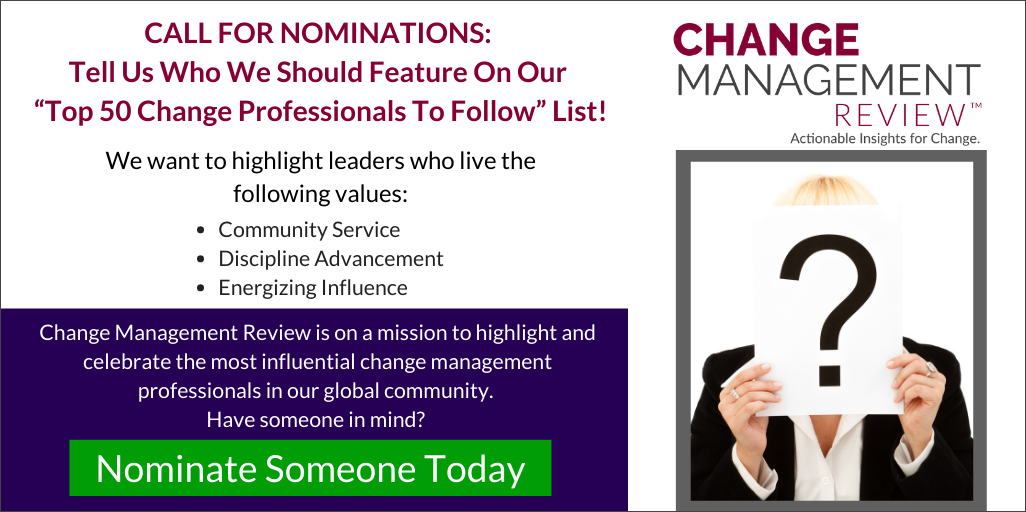 It's Your Turn: Submit Your Nomination Now
If you would like to nominate a change management colleague, partner, or community leader, please submit the form below by Monday, November 30th.
We want to highlight leaders who live the following values:
Community Service – This Change Professional mentor plays an active role in the change management community, and serves others by teaching, serving on professional organization boards, and sharing their knowledge.
Discipline Advancement – This accomplished Change Professional publishes articles, shares thought leadership, and speaks at professional conferences. He or she shares new ideas that help our discipline evolve and stay relevant.
Energizing Influence – When you engage with this Change Professional, you are feeling energized and ready to tackle your important work. He or she connects people around them and builds bridges.
Simply click the button below and submit your nomination now.
(If you wish to make multiple nominations, please fill out a separate form for each one.)
Thank you very much for submitting your nomination. We will carefully review all submissions!
Share This!