No matter what direction you look, the pace of change continues to accelerate.
Whether in the external environment, inside our organizations, or in our personal lives, change is endemic.
If change is the primary disruptor in today's organizations, change management has the potential to be a key differentiator.
Those organizations that are able to consistently respond to internal and external change while minimizing the disruption to delivering quality goods and services will be those who not only succeed, but who excel.
A well-staffed and sponsored Change Center of Excellence (CCoE) can make the difference in whether your organization is on the winning or the losing side of this equation.
Claim Your Access to this Change Management Practitioner's Guide that Gets You:
The four elements that are required for an effective Change Center of Excellence (CCoE) –
Charter – defines the organization's expectations of the CCoE, as well as how the Center is to meet those objectives
Quality – sets out the parameters for change competency and articulates performance expectations to set the bar for results
Consistency – ensures that a uniform approach is consistently applied across the organization
Agile Culture – is able to instinctively respond successfully each time a new change is introduced
Plus, two key advantages for organizations that implement a Change Center of Excellence (CCoE) –
Realization – elements of the charter, from purpose to scope to strategy to measurement and results, are framed for realization
Competition – a well-chartered and sponsored CCoE, appropriately staffed and applying a consistent approach to change, makes the difference
And, you will benefit from making use of the "Change Centers of Excellence" Quick Reference Guide included with this guide.
New resources for practitioners, as they are added to our website, are announced in the Change Management Weekly, our digest of actionable insights for change delivered to your Inbox every Tuesday. To claim your free subscription, click here: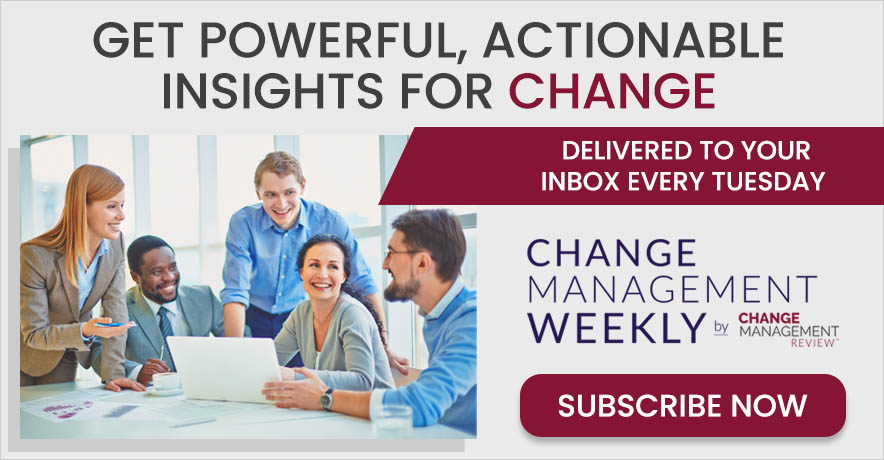 Share With Your Colleagues